SC4-M5A KOGANEI SPEED CONTROLLER YAMAHA ORIGINAL NEW
WE SUPPLY ORIGINAL/USE YAMAHA SPARE PARTS FOR STOCK.

| | |
| --- | --- |
| Part name | CONTROLLER |
| Part number | SC4-M5A |
| Part notes | YV100XG |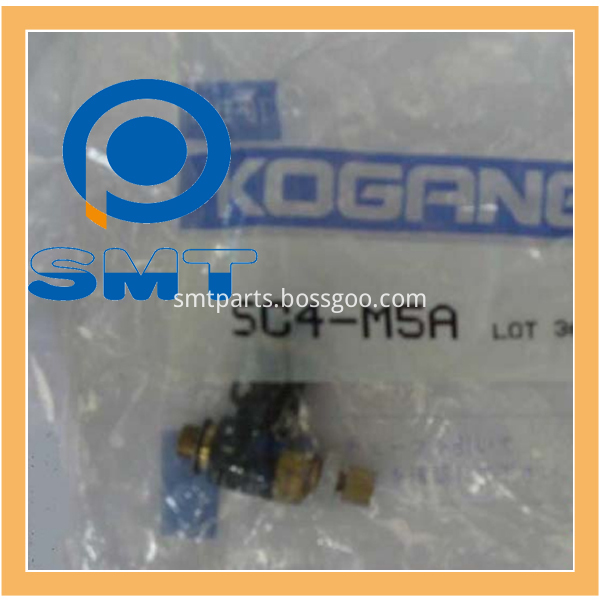 No. Part No. Part Nam
1 KGS-M2211-01X FRAME X AXIS
2 KM0-M2220-00X COUPLING, X-AXIS
3 KGS-M2241-00X HOLDER, MOTOR X
4 KGS-M2242-00X HOLDER, BRG X
5 KGS-M2245-00X BRG., ANGULAR
6 KGS-M2261-00X HOLDER, HEAD
7 KGS-M2271-00X SCREW BALL X AXIS
8 90K63-511403 AC SERVO MOTOR
9 KGS-M2276-S0X X-AXIS GUIDE SET
10 KGA-M2649-41X DAMPER 24
13 KGA-M2649-00X NYLOCK BOLT (M2.6X
14 KGS-M2248-00X DAMPER
15 KGS-M2240-00X SLEEVE, BRG.
16 KGS-M2244-00X COVER, BRG.
17 KV7-M2648-00X SPACER
18 KG2-M9173-00X LOCK NUT
19 90190-06J010 HELISERT
20 KV7-M2604-00X SUPPORT UNIT
21 KGS-M220A-30X TAPE X-AXIS
22 91317-04008 BOLT HEX. SOCKET H
23 91317-04010 BOLT HEX. SOCKET H
24 91317-04014 BOLT HEX. SOCKET H
25 KV7-M2251-00X NYLOCK BOLT (M4X1
26 91317-05018 BOLT HEX. SOCKET H
27 91317-06018 BOLT HEX. SOCKET H
28 91317-06020 BOLT HEX. SOCKET H
29 91317-06025 BOLT HEX. SOCKET H
30 92903-06100 WASHER SPRING
31 99480-06012 PIN, PARALLEL
32 KGS-M220A-00X TAPE , X DUCT
Please do not hesitate to contact us with your part number for SMD FUJI, YAMAHA, JUKI, PANASONIC and SAMSUNG.
We have good source and large ready stock for major brand SMT automotive spare parts. Such as, feeder/feeder parts, nozzle/nozzle holder/nozzle shaft, laser sensor, servo motor, driver, controller board, solenoid valve, ball screw, belt, cable, sensor etc.
SMTPLAZA is one of the SMT solution provider for Global customers,offer Automatic Insertion Machines spare parts, SMT spare parts with feeders, pick up nozzle,feeder parts, motor, PCB board, Laser, feeder calibration etc. for FUJI, YAMAHA, PANASONIC, SIEMENS SIPLACE, SUMSUNG SMT equipments, bother DEK and MPM printer machines spare parts. Large stock with original quality parts,competitive price, confidence with satisfy warranty, to gain good reputation from Globle customers.